[ Back to Main Page ]
InnerLight Publishing Releases Second Book, The World Is Round by Nikky Finney
Atlanta, Georgia (December 5, 2002) - InnerLight Publishing, a small independent publisher based in Atlanta, Georgia, announces the release of its second book, a collection of poetry by Nikky Finney. Finney, one of the premier poets of our time, has completed her third book of poetry--a stunning collection entitled, The World Is Round, to be published in January 2003. In addition, InnerLight Publishing is offering a hard-back Limited Edition version of the book, all of which are signed and numbered by the author (visit either the publisher's website at www.innerlightpublishing.com or the author's website at www.nikkyfinney.com).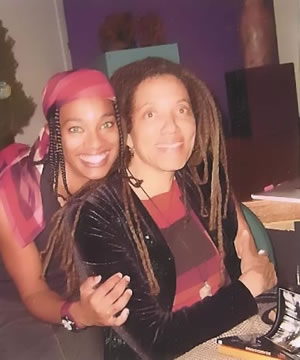 Doria Roberts and Nikky Finney
See other photos from launch event
Critics and poets alike are describing Finney's latest effort as an extraordinary breakthrough book. The poet's voice and use of language proves stronger and more personal than ever before.
InnerLight Publishing has been operating in Atlanta for two years. The company's first book, The Venus Chronicles: Musings From the Feminine Side by Carol Gee, achieved acclaim in its first printing. Although InnerLight is dedicated to publishing books written by African-American and/or women authors and poets, the company also considers works by people of all backgrounds, especially books with meaningful themes.
InnerLight Publishing was conceived as one of the first publishing houses to innovatively incorporate the author as a fundamental element of the production process. InnerLight is a premier publisher consistently building a reputation based on extreme quality and high integrity.
For more information about the upcoming release of The World is Round, contact InnerLight Publishing at 800-266-9057 or visit the website at www.innerlightpublishing.com.
[ Back to Main Page ]