Reviews & Reader Response to
The World Is Round
by Nikky Finney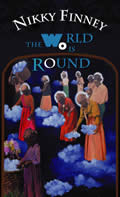 A poem, when it works, is a rolling realization of ideas and emotion that takes you somewhere you've never been with a sense of familiarity that opens up a whole new world right there in your mind. Nikky Finney has done these things for me. She has flung me into an after-birth of stars and made my stiff bones as loose as jelly.
Her poetry teaches me that my suspicions about who I am might be true. She brings me back home to the south and says, "Welcome." With this book, she has become my guide, protector and joy on the dangerous back roads of America's hidden passions. Every now and then, I find myself in a room with a stage and there she is, reading poems, pulling me out of myself and bringing me home. The World Is Round opens all of my doors and windows and airs me out with a cold and truthful wind.
- Walter Mosley
---
Nikky Finney is a phenomenon. She writes directly from her heart to yours about situations that sometimes no one else has given voice to.
The last book of hers I came across [RICE], I ended up buying copies for all my friends. I'll have to do the same with The World Is Round. These poems become a part of one's life.
Hones, funny, sexy, deeply spiritual, occasionally angry, always eloquent, I think the thing that impresses me the most is that she sees the extraordinary in the everyday and honors the deepest parts of what makes us human.
- Steven Kent, Institute for Conscious Acting
---
Sometimes poetry is a flurry of pretty words; it may capture our senses with carefully-wrought rhythm and sound but the memory scatters like autumn leaves, scurries away from us like trivial notes in the wind.
The World Is Round is rather like a memoir starting with a sense for the first stirrings of life through the bitter and loving intricacies of family life. That the author is an African-American woman is important only because, by virtue of her being exactly who she is, she breaches the gulf between gender, the rift between races, the gap between generations. Her poetry eloquently demonstrates that soul is simply soul. There are no differences when understanding is present.
- Carolyn Howard-Johnson, author of This is the Place and Harkening: A Collection of Stories Remembered
---
A wonderful collection of poetry and stories, written by an equally amazing person, Nikky Finney. Her words will make you laugh, cry, think and shout-out with emotions.
There is a beautiful story in 'The World is Round' called 'Hurricane Beulah,' a story about her grandmother. If you've ever lost someone very close to you, this is a story for you.
Many of the poems, stories and prose in this book you may be able to relate to; others you may not. But one thing you will do is listen to Finney's powerful words.
Lisa, comment posted to Book Review Cafe